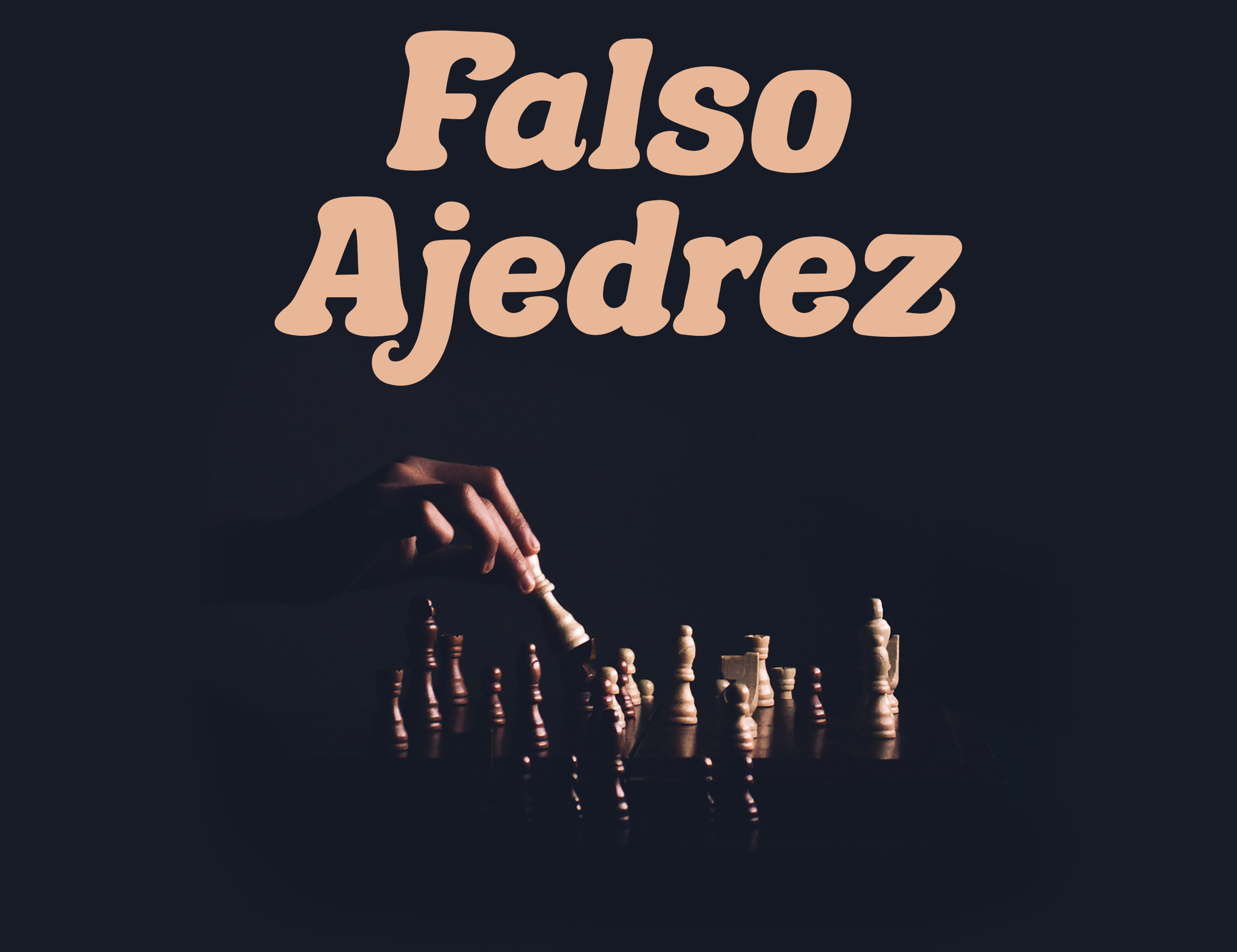 Falso Ajedrez
El Ajedrez es un juego de vasta complejidad y con 1500 años de historia.
Falso Ajedrez no lo es.
Quienes juegan Falso Ajedrez actúan como jugadores de Ajedrez serios sin el peso de las estrategias, las tácticas, o las reglas del Ajedrez.
Vive las fantasías de ser une Gran Maestre… con Falso Ajedrez!
"Esto es algo brillante"
"This is brilliant."
Michael "Wheels" Whelan
(The House Doesn't Always Win, Dicebreaker)
"[Un] juego de rol bizarro"
"[A] bizarre roleplaying game"
Alex Meehan (Dicebreaker)
Falso Ajedrez requiere un tablero real de ajedrez.
Dos jugadores se sentarán y se enfrentarán, armades nada más que con sus piezas de ajedrez, algunos papeles, y un extremadamente limitado conocimiento de ajedrez. Usando un conjunto de reglas y mecánicas básico, estos jugadores se trabarán en lo que se verá como una intensa batalla de ajedrez entre dos maestres del juego.
Es dramático, es absurdo. Puede ser un juego real, pero es definitivamente falso ajedrez.
OBJETIVO DE LA RECAUDACIÓN
Las ventas de Falso Ajedrez se utilizarán para financiar la traducción de la gran secuela de este juego, Falso Ajedrez: Libro de Campeones. Cuando alcancemos los $400, traduciremos y lanzaremos Falso Ajedrez: Libro de Campeones al español latinoamericanos.
Purchase
In order to download this game you must purchase it at or above the minimum price of $5 USD. You will get access to the following files:
Falso Ajedrez - SPC - Pliegos.pdf
844 kB
Falso Ajedrez - SPC - Páginas.pdf
883 kB
Comments
Log in with itch.io to leave a comment.
In what language is this written? It seems Spanish but grammatically it seems another language.
It's written in Latin American Spanish, using gender neutral suffixes when appropriate.
That's why. That gender neutral usage in this case is a construct not accepted grammatically since there are other options much more acceptable and respectful with the language, besides being respectful with people not adhering to the usual gender standards. Thank you for your effort, but I will keep the English version. I value the language implementation quality too much.