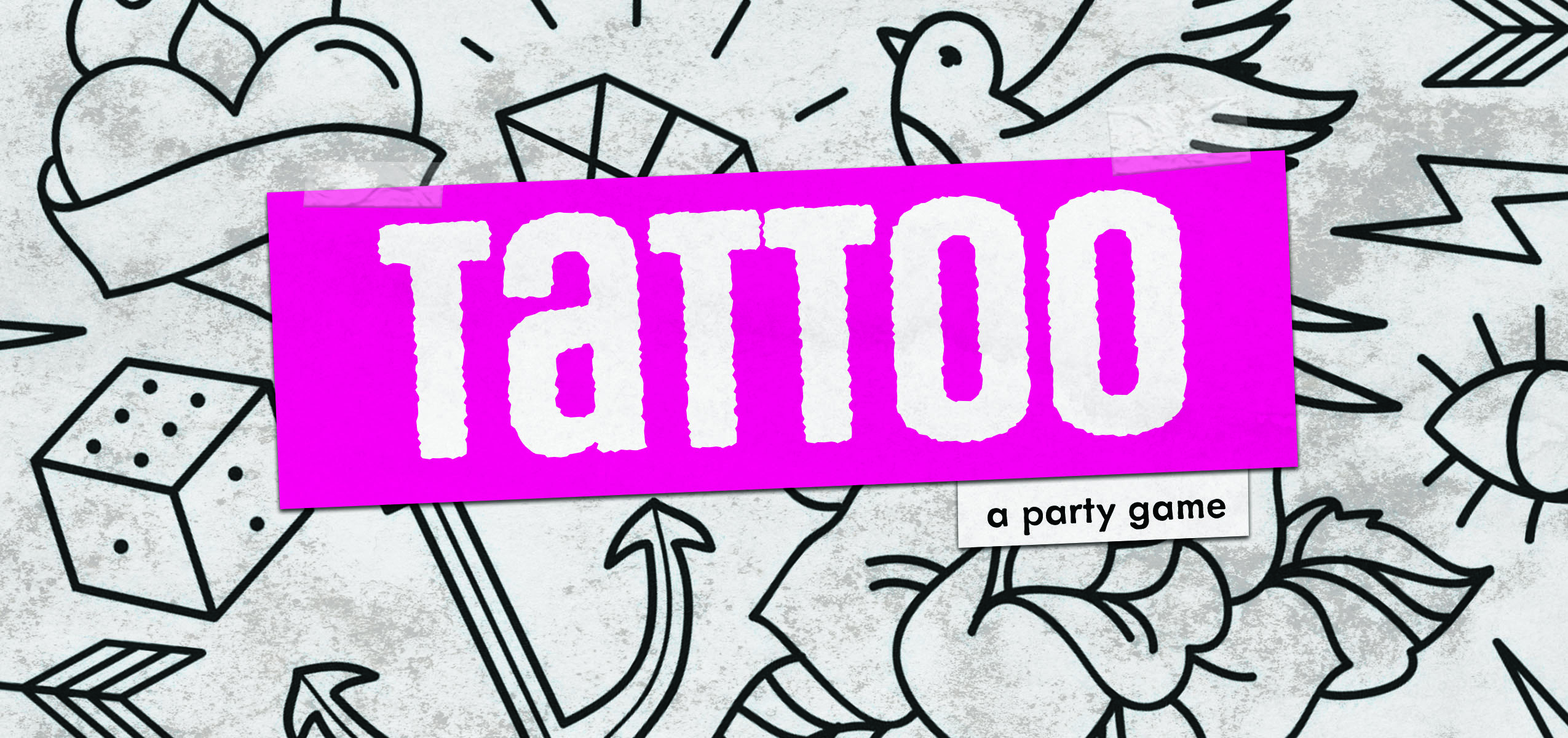 TATTOO
TATTOO is now in print as a limited-edition, hand-numbered zine.
Shipping everywhere. Get your copy here.

What is TATTOO?
TATTOO is a roleplaying game about tattoo artists, their clients, and the reality TV show that puts them in the spotlight. It's lightweight, GM-less, and can be played without any prep or study.
It's also a competitive party game of deduction, gambling, and competitive doodling.
And it's a hack of Taboo, the classic guessing game. (Taboo. Tattoo. You get it.)

TATTOO players take on three roles:
As the Artists, they'll be the stars of the show. Players will flex their design muscles, craft killer tattoos for their clients, and compete for success and prestige.
As the Clients, they'll be the tattoo parlor's celebrity guests, trying -- and frequently failing -- to communicate their artistic visions to a team of artists.
As the Producers, players will keep the show moving, acting as host, judge, and DJ. (Instead of a traditional timer, TATTOO employs a playlist of 36 killer punk & hip-hop tracks to keep the energy high and the drawing time limited.)

DETAILS:
TATTOO is a game for 5-10 players & takes 1-2 hours to play. Players will need:
A copy of the game book & the player sheets
A deck of Taboo cards
Some drawing materials

A big pile of little tokens: pennies, pebbles, buttons, etc.
A few six-sided dice
Some speakers -- the louder the better -- and access to the game's soundtrack (available on Spotify & Apple Music)
The game book is 36 pages and approximately 3600 words long.
Purchase
In order to download this game you must purchase it at or above the minimum price of $7 USD. You will get access to the following files:
TATTOO - Spreads.pdf
7 MB
TATTOO - Singles.pdf
8 MB
TATTOO - Artist Sheet.pdf
1 MB
TATTOO - Client Sheet.pdf
898 kB
TATTOO - Producer Sheet.pdf
877 kB
TATTOO - Soundtrack Sheet.pdf
824 kB
TATTOO - Hi-Res Print Quality.zip
204 MB
TATTOO - Text Only.pdf
95 kB
Community Copies
Support this game at or above a special price point to receive something exclusive.
Community Copy
If can't afford to purchase TATTOO, help yourself to a community copy.

If you appreciate the game, please consider leaving a 5-star rating. A kind review or social media post can also go a long way.
Comments
Log in with itch.io to leave a comment.
Hey so... Why is this in the Queer Games bundle 2022 if I gotta BASICALLY buy it a second time?
Pardon me, I missed the button at the top. Never claimed to be a smart man--
Sean's writing is a pleasure to read, and is elevated to straight-up illuminated status with every layout choice. I don't think it's possible to set a better stage than "We are the remarkably talented, devastatingly hot dirtbags of TABOO INK."

This game brings Taboo into the post-Jackbox party game classics territory, something I'd pull out with anyone anywhere any night.

It's such a fantastic encapsulation of reality TV, working seamlessly into the DNA or RPGS, this game gets it on an atomic level, and speaks to the designer's curatorial smarts and instinct: what stays, what goes, and what's the focus. I think the talking head skull and the ?! buttons on the character sheet reallllllllly make this clear.

The graphic design is beyond kinetic, it's inviting and fun and loud and blends style with iconography in the way that the best UX does. Even further, I feel like I'm inside of TABOO INK when reading, and I imagine play will have me seeing my own name as a grungy chiron when I'm speaking.

The soundtrack is the best in a game and I mean it: Bad Brains, Rico Nasty, Danny Brown, and more. This is just my daily listen at this point. Five stars easy
looks awesome!! I can't wait to grab a copy soon!!
This game looks amazing and beautiful !